The BEST Banana Loaf Pound Cake, super moist, made from scratch recipe with mashed bananas. Great for breakfast, brunch or dessert. Excellent, easy banana cake
Are you looking for a cake packed with flavor? Or how about a moist cake, yet one that gives you a lovely texture from the soft cake?
The bananas in this cake will give you a very moist and almost sticky texture. Don't be mistaken the cake is not cooked! It's the mashed bananas. you'll note from the photos the texture that you'll get once the cake is baked.
This site contains affiliate links. I may receive a commission for purchases made through these links. As an Amazon Associate I earn from qualifying purchases.
[Learn more]
Ultimately, you end up with a very soft, moist and slightly sticky cake. It's absolutely delicious!
Well, look no further! Here you see how to make moist banana bread, using our perfect simple recipe.
When baking this, your kitchen will be filled with lovely baking aromas of homemade baking, and once baked, you can sit back, make yourself a cup of tea and have a delicious slice of super moist and soft banana bread!
Jump to:
Share with friends, bring as a gift offering when you go visiting friends.
Whatever the occasion, rest assured, you will enjoy this easy to make banana bread recipe. So read on, print the recipe if you wish, or bookmark this recipe.
I've also used this cake to make our Banana Cream Cake Trifle. I had a couple of slices leftover so I decided to make the trifle and I have to say, using the banana bread really packs a punch of flavor and the texture is wonderful.
This recipe is flexible enough for you to use walnuts, or any of your favorite nuts, such as macadamia, pecan or cashew.
We have a variety of banana loaf recipes that have caramel, Nutella, walnuts, coconut to name a few! So be sure to check those out.
Don't forget to subscribe to Lovefoodies to keep up to date with upcoming recipes. Enjoy!
⏲️ Baking time
55minutes
Equipment
You will need a loaf tin, mine measures 30cm x 12cm and 8cm deep. This recipe will also work in a regular 9 inch up to 12-inch loaf pan, same cook time
Ingredients
1 ¼ Cups or 225 g Plain / All Purpose flour sieved
1 Teaspoon baking powder
¼ Teaspoon Bicarbonate of Soda
Pinch of salt
⅓ Cup or 75 g Butter
¾ cup or 175 g Sugar
2 medium eggs lightly beaten
3 cups or 450 g peeled VERY RIPE bananas. (approx 4 medium bananas)
Top tip
Baking Soda / Bicarb of soda is used to enhance the texture and 'grain' of the loaf. It is not essential for you to use it, but it does give a bit of texture as banana breads can often be a little 'smooth' in texture.
Instructions
1. Heat oven to 170C, Gas 4, 350F.
2. Grease and line your baking tin. (if you have a silicone one, then no need to grease or line) . See here if you would like to know how to Line a Loaf Tin
If you don't have any parchment paper, use our easy pan release recipe (it only takes minutes to make a batch) and your cake will slide out no problem!

3. Use a potato masher or fork and mash the bananas

4. Mix together the sieved flour, salt, bicarbonate soda and baking powder.

5. Cream the butter and sugar until pale and fluffy, add the eggs a little at a time with a few tablespoons of the flour (to stop the batter from splitting).

6. Add the bananas, combine well.

7. Using a metal spoon, fold in the rest of the flour.

8. Transfer mixture to baking tin and spread evenly taking care to make sure the corners also have batter. If necessary, dropped the filled tin from a height of a couple of inches onto your work surface to help distribute the batter evenly.

9. Place in the oven for 55minutes. Test after 45 minutes if ready using a metal skewer. Poke the skewer into the center of the cake mixture.
If the skewer comes out clean, the cake's ready! *** Please do test if the cake is done as all ovens are different and your cake may take a little longer or a little less time to bake.
Delicious Recipes using Bananas
Here's a selection of our very best recipes using bananas.
Recipe
Yield: 10
The BEST Banana Loaf Pound Cake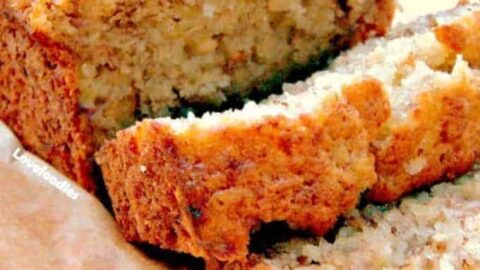 The BEST Banana Loaf Pound Cake, super moist, made from scratch recipe with mashed bananas. Great for breakfast, brunch or dessert. Excellent, easy banana cake
Total Time
1 hour
10 minutes
Ingredients
1 ¼ Cups or 225 g Plain / All Purpose flour sieved
1 Teaspoon baking powder
¼ Teaspoon Bicarbonate of Soda
Pinch of salt
⅓ Cup or 75 g Butter
¾ cup or 175 g Sugar
2 medium eggs lightly beaten
3 cups or 450 g peeled VERY RIPE bananas., approx 4 medium bananas
Instructions
Heat oven to 170C, Gas 4, 350F.
Grease and line your baking tin. (if you have a silicone one, then no need to grease or line) .
Use a potato masher or fork and mash the bananas.
Mix together the sieved flour, salt, bicarbonate soda and baking powder.
Cream the butter and sugar until pale and fluffy, add the eggs a little at a time with a few tablespoons of the flour (to stop the batter from splitting).
Add the bananas, combine well.
Using a metal spoon, fold in the rest of the flour.
Transfer mixture to baking tin and spread evenly taking care to make sure the corners also have batter. If necessary, dropped the filled tin from a height of a couple of inches onto your work surface to help distribute the batter evenly.
Place in the oven for 55 minutes. Test after 45 minutes if ready using a metal skewer. Poke the skewer into the center of the cake mixture. If the skewer comes out clean, the cake's ready! *** Please do test if the cake is done as all ovens are different and your cake may take a little longer or a little less time to bake
Nutrition Information:
Yield:
10
Serving Size:
10 Servings
Amount Per Serving:
Calories:

298
Total Fat:

7g
Saturated Fat:

4g
Trans Fat:

0g
Unsaturated Fat:

3g
Cholesterol:

49mg
Sodium:

124mg
Carbohydrates:

56g
Fiber:

3g
Sugar:

29g
Protein:

4g